Since 1893 a service called hurtigruta ('the express service') has connected ports along the Norwegian coast, from Bergen to Kirkenes. It started on a governmental initiative, but it was the pioneering work of captain Richard With and his eminent pilot Anders Holte that made the service possible. The government demanded no more than 48 hours from Trondheim to Svolvær (in Lofoten), With and Holte did it in 34 hours.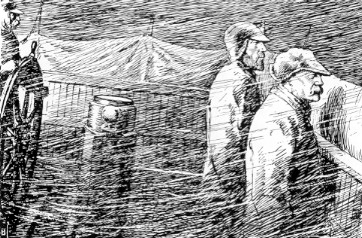 Richard With and Anders Holte on the bridge (drawing by Øyvind Sørensen).
Richard With founded Vesteraalens Dampskibsselskab in 1881, and the first ship to serve as 'hurtigrute' was called Vesteraalen. In 1893 it sailed from Trondheim to Hammerfest. Later the service was extended to Bergen (in 1898) and Kirkenes (1914), and from once-a-week sailings in 1893 to calls every day from 1936.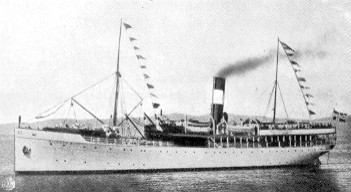 DS Richard With was build in 1909.
The sailing distance is 1,250 miles, and the ships call at 34 ports. Today it takes eleven days from Bergen and back, so there are at any moment eleven ships spread along the coast. Before 1940 all of them were steamers, but that year the motor ship Ragnvald Jarl entered the service and signalled the end of the steamship era.
The sailing along the Norwegian coast is not without dangers, especially during dark and stormy winters. Eight ships have been lost, the last one in 1962 (Sanct Svithun). But the war took the heaviest tolls from the fleet. Ten ships were bombed (by British planes) or torpedoed, and a lot of people died. But today the coastal express makes a very safe journey for its passengers.
From 1893 up to the 1980s the 'hurtigrute' was an important part of the coastal culture and a vital service for the communities along the coast. However, after the war more and more traffic went on wheels or wings, and the companies behind the ships were forced to change strategy to survive.

Coastal express passing under the Sortland bridge. On top of the bridge busses with tourists looking down at the tourists on the ship.
Starting with the third Midnatsol i 1982 the new ships were build as tourist/cruise wessels - The Norwegian Coastal Voyage. This strategy seems to work. Thousands of tourists make the journey every year, but at the same time the 'hurtigrute' is fading out of the coastal culture. They are tourist ships gliding along our shores now.
Below you'll find a table showing most of the ships that has been a part of the coastal express (some 'stand in' boats have been left out). You may notice that in some cases a name has been transferred to a new ship. For instance, now the fourth Midnatsol (Midnight Sun) is sailing the Norwegian coast (and the third Midnatsol is sailing under the name of Lyngen!). At the bottom of the page the abbreviations of the shipping company names are explained.

BDS: Bergenskes Dampskibsselskab
DSD: Det Stavangerske Dampskibsselskab
FFR: Finnmark Fylkesrederi
NDS: Nordlands Dampskipsseksap
NFDS: Nordenfjeldske Dampskibsselskab
ODS: Ofotens Dampskipsselskap
OVDS: Ofotens og Vesteraalens Damskibsselskap
TFDS: Troms fylkes Dampskipsselskap
VDS: Vesteraalens Damskibsselskab
H: Hurtigruten ASA
- også andre selskaper har vært eiere