Å kalle den for en dyrepark, er å ta altfor svakt i. Den er ikke lenger et lite område med eksotiske dyr, men har vokst til å bli en svært innholdsrik fornøyelsespark. Vi fant fort ut at her måtte vi bruke to dager (og mer penger), og det angra ingen av oss på.
[To call it a zoo is a vast understatement. It is no longer a small area with exotic animals, but has grown into a very comprehensive amusement park. We soon found out that we had to spend two days (and more money) here, but none of us regretted this.]
Ingen tvil, Hanne er kommet til 'Mitt Afrika'. Hun besøkte denne delen av parken begge dager.
[No doubt, Hanne has reached 'My Africa'. She visited this part of the zoo both days.]

Sebraer er gode fotomotiv, især når de stiller seg på rad og rekke.
[Zebras are good photo subjects, especially when they line up.]

Giraffen sier visst: - Så, en gjeng nordfra her i dag!
[The giraffe seems to say: - So, a bunch of northerners here today!]

Strutsen brydde seg ikke om gjester nordfra, men viste dem baken.
[The ostrich didn't care about guests from north, but showed them his behind.]

Ei sjøløve-mor med baby samla tilskuere.
[A sea lion mother with her baby drew an audience.]

Kenguruen foretrakk mat framfor knipsing.
[The kangaroo preferred food more than being snapped.]

Hvem er det som sitter der og speider? Hanne visste svaret: - Timon!
[Who's sitting there watching? Hanne knew the answer: - Timon!

Den store attraksjonen i denne delen av parken: Tigrene.
[The big attraction in this part of the park: The tigers.]
Parken har mange norske dyr. Dem møtte vi imidlertid på Namsskogan og er avbilda der i rikt monn. Vi tar med ett bilde fra Kristiansand, Hanne og Camilla som prøver å få kontakt med to ender. Ikke så enkelt!
[The zoo contains a lot of Norwegian animals. However, we met them in Namsskogan, and they are abundantly portraited there. We include one photo from Kristiansand, Hanne and Camilla trying to establish contact with two ducks. Not that easy!]

Så gikk vi inn i jungelen i Kristiansand, der vi traff fargerike fugler, nifse krypdyr - og noen svært fjerne slektninger.
[Then we entered the jungle in Kristiansand, where we saw colorful birds, eerie reptiles - and some very distant relatives.]
Han så trist og tankefull ut - av varmen eller oss?
[He looked sad and thoughtful - of us or the heat?]

Og her en irritert og avvisende Julius - hvorfor glaner de?
[And here a grumpy and reserved chimp - why are they gaping?]

Hvem studerer hvem? Og hvem har vakrest frisyre?
[Who studies who? And who has the the most beautiful hairdo?]

Prøver han å forklare oss hvordan det føles å være i bur langt heimefra?
[Is he trying to explain how it feels to be caged far away from home?]

En slange! Mett og trøtt bak en tjukk glassvegg.
[A snake! Full and drowsy behind a thick glass pane.]

Krokodille eller alligator? Nifs uansett.
[Croc or gator? Spooky guy, no matter what.]

Det er mulig papegøyer kan snakke. De kan i alle fall skravle og skrike.
[It's possible that parrots can talk. At least they can shatter and holler.]

Flamingoer - vakre og elegante fugler. Fotogene også.
[Flamingos - beautiful and elegant birds. Photogenic, too.]
Dyreparken i Kristiansand er en suksess, og det er lett å se hvorfor. Publikum får følelsen av å være med i det som foregår, omgitt av dyr overalt, og midt på scenen i all underholdning. Det gjør parken inkluderende og menneskelig, sjøl om den egentlig er en pengemaskin. Vi kommer absolutt tilbake for å oppleve alt på nytt, for eksempel Kardemomme by.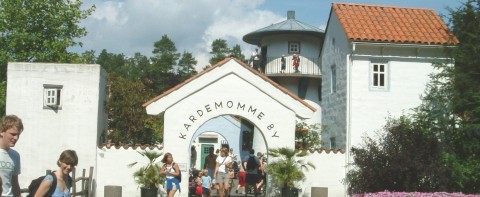 [The Kristiansand Zoo is a success, and it's easy to see why. The public gets a feeling of being a part in what's going on, surrounded by animals everywhere, and in the center of the stage in every show. This makes the park including and human, although it actually is a money machine. We absolutely will return to experience everything again, for instance 'Cardamom Town'.]
Hanne rir en kvit hest på karusellen i Kardemomme by.
[Hanne riding a white horse on the carousel in Cardamom Town.]

Her kommer Camilla hand i hand med politimester Bastian.
[Here comes Camilla hand in hand with Bastian, Chief of police.]

Litt Norge, litt Spania, litt Tunis - Kardemomme by.
[Part Norway, part Spain, part Tunis - Cardamom Town.]

Tante Sofie, en av personene som Torbjørn Egner skapte.
[Aunt Sophie, one of Torbjørn Egners creations.]

Trikken, med Stine og Hanne et sted på taket.
[The tramcar, with Hanne and Stine somewhere on the top.]

Og der har de klatra opp i tårnet til Tobias.
[And there they have climbed the tower where Tobias lives.]

Også Camilla er i tårnet, og ser ut til å ha det kjempefint.
[Camilla, too, is in the tower, and looks like having a wonderful time.]

Litt av utsikten som Tobias har. Han følger med i alt.
[Part of Tobias' view. He pays attention to everything.]
Kjuttavigå en gloheit lørdag. Kanskje ikke så mye aktivitet der, men rundt omkring foregikk det litt av hvert.

[Kjutta Harbour a very warm Saturday. Perhaps a little quiet there, but in the neighbourhood many activities took place.]
Hanne fant gull - eller noe som ligna på gull.
[Hanne found gold - or something that resembled gold.]

Camilla og Hanna tar toget: - Går det ikke snart?
[Camilla and Hanne boarded the train: - When will it leave?]

Camilla kommer i full fart ned ei humpete sklie.
[Camilla comes in top speed down a bumpy slide.]

Stine henger under løypestrengen og lurer på hvor dette bærer hen.
[Stine hangs under the slide line wondering where she will end up.]

Her har Camilla funnet en eventyrvenn i Trollskogen.
[Here Camilla has found a fairy tale friend in the Troll Forrest.]

Ei tømmerrenne med tretten meters fall - tør vi?
[A timber log gutter with forty feet drop - do we dare?]

Det gjorde vi! Hanne (framst) tar turen nedover med et smil.
[We did! Hanne (in front) took the trip down with a smile.]

Trygt nede, litt våte, men varmen tørka snart klærne.
[Safe down, a little wet, but the heat quickly dried the clothes.]
Sjølsagt har parken et tivoli, ikke ei lang og støyende gate med boder på begge sidene, men et koselig og intimt torg.

[Of couse the park has a fun fair, not a long and noisy street with stalls on both sides, but a cozy and intimate market place.]
Farger, sjanser og masse gevinster - da kan man ikke si nei.
[Colors, chances and lots of prizes - then you can't say no.]

Vi prøvde ikke 'slegga', men valgte å vinne fine premier.
[We didn'y try 'the sledgehammer', but chose to win fine prizes.]

Camilla fisker svaner og vant en liten ting.
[Camilla fishes swans and won a little thing.]

Stine fikk tatovert en sommerfugl på ryggen.
[Stine got a butterfly tattoo on her back.]

Johan står klar med flere mynter til Hanne og Camilla.
[Johan is ready with more coins for Hanne and Camilla.]

Stine, Hanne og Camilla skal kjøre tekopp-karusell.
[Stine, Hanne and Camilla shall ride a teacup carousel.]

Camilla sitter som ei prinsesse i tekoppen.
[Camilla sits like a pricess in her teacup.]

Hanne likte de roterende tekoppene svært godt.
[Hanne loved the rotating teacups.]
Kaptein Sabeltann er et merkverdig fenomen, og du må til dyreparken i Kristiansand for å oppleve det. Det er et sommerlangt show om en sjørøver og hans mannskap - fullstendig uhistorisk, men historisk nok for ungene, fullpakka av svingende musikk og troverdige typer, fri for sørsuppe og sentimentalitet, mer enn en myte, mer enn et eventyr, mer enn en musical - kort sagt, en vidåpen verden som ungene elsker å gå inn i. Og i sentrum: Kaptein Sabeltann, litt skremmende, men aldri farlig.

Kaptein Sabeltann (Captain Sabretooth) is a peculiar phenomenon, and you must go to the Zoo in Kristiansand to witness it. It's a summer-long show about a pirate and his crew - completely unhistoric, but historic enough for the children, filled to the brim with swinging music and believable characters, free from soppy stuff and sentimentality, more than a myth, more than a fairy tale, more than a musical - in short, a wide open world that the kids love to enter. And in the center: Captain Sabeltann, a little frightening, but never dangerous.
Der kommer sjørøverskuta - sjølsagt full av barn.
[Here comes the pirate ship - filled with kids, of course.]

Snart er det folksomt i den maleriske sjørøverbyen.
[Soon it's crowdy in the picturesque pirate town.]

En gjeng sjørøvere lager show midt på torget.
[A gang of pirates makes a show in the middle of the market.]

Camilla var ellevill over å få se Sabeltann-showet.
[Camilla was overjoyed by seing the Sabeltann show.]

Så peikte Langemann opp mot taket: - Der er han!
[Then Langemann pointed at the roof: - There he is!]

Kritthvitt fjes inni en nattsvart parykk - kaptein Sabeltann!
[White-chalked face inside a nightblack wig - captain Sabeltann!]

Og så: To pirater, Pelle og Langemann, stilte opp sammen med jentene!
[And then: Two of the pirates, Pelle and Langemann, posed with the girls!]

Dette er mye av hemmeligheta: Møt ungene, og la dem bli en del av showet.
[This is much of the secret: Meet the kids and let them be a part of the show.]
Og enda hadde vi ikke sett alt som finnes i dyreparken ...
And yet we hadn't seen everything in the Zoo ...