Vi tok oss tid til et besøk i Lesja kirke og på bygdetunet like ved. Det viste seg å bli både lærerikt og interessant. Utbyttet blei ekstra stort for Marianne (se lenger ned).
[We took time to visit Lesja church and the rural museum nearby. It turned out to be both informative and interesting. The yield was escpecially rich for Marianne (see below).]
Den meget vakre tømmerkirka i Lesja blei bygd i 1749.
[This very beautiful church in Lesja was built of timber in 1749.]

Kirka er usedvanlig rikt utsmykka, til og med stolene.
[The church is extremely richly decorated, even the chairs.]

Utskårne og forgylte akantusranker på preikestolen.
[Carved and gilded acanthus leaves on the pulpit.]

Det tok Jakob Klukstad seks år å skjære ut det enestående alteret.
[It took Jakob Klukstad six years to carve the remarkable altar.]

Hovedinngangen og orgelgalleriet sett fra alteret.
[The main entrance and the pipe organ gallery seen from the altar.]

Takmaleriene blei laga av Ragnvald Einbu ca. 1925.
[ The roof paintings was made by Ragnvald Einbu in the 1920s.]

Til og med lysestakene var overdådig dekorert.
[Even the candlesticks were lavishly decorated.]

Marianne ved døpefonten der en av hennes forfedre blei døpt.
[Marianne behind the font where one of her forefathers was christened.]
Like ved kirka ligger Lesja bygdatun. Tolv hus fra 1700- og 1800-tallet utgjør et komplett gårdstun, slik de var utforma på den tida. Tradisjonelle aktiviteter i husene og god informasjon gjør dette til et svært lærerikt museum.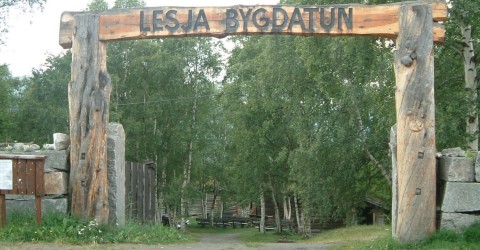 [Near the church stands Lesja rural museum. Twelve houses from the 1700s and 1800s constitutes a complete farmyard, the way they were shaped at that time. Traditional activities in the houses and good information makes this a very instructive museum.]
Bygningene ligger spredt i en frodig park av bjørketrær.
[The buildings are spread in a fertile park of birches.]

I ett av husene foregikk det baking på tradisjonelt vis.
[In one of the houses they baked in the old fashion.]

Stine foran kornmagasinet. - Trengte de så mye korn?
[Stine in front of the granary. - Did they need that much grain?]

Et gammelt ildsted, murt av tilskårne steiner.
[An old fireplace, made of stones that are cut to fit together.]

Mølla på gården. En kvernstein står ved døra.
[The farm mill. A millstone stands by the door.]

Hanne foretrekker kaniner framfor historie.
[Hanne prefers rabbits rather than history.]

Hovedbygninga, egentlig to hus bygd sammen til ett.
[The main building, in reality two houses build into one.]

Jentene har sett nok og er klare til å kjøre videre.
[The girls have seen enough and are ready to continue the trip.]